Bild saknas
Healthwell Inflamin Collagen Premium
Highly-dosed powder with collagen & herbs.- Peptan® collagen
- Taste of apple
- With MSM, zinc and vitamin C.
Hyaluronic Acid Plus
90 caps.
Popular
Popular
Product description
Nutritional content
Product description
Highly-dosed supplement for the joints
Healthwell Inflamin® Collagen Premium is one of our most advanced and highly-dosed dietary supplements. The dietary supplement contains an advanced composition of traditional herbs and plants as well as Peptan® collagen. Inflamin® contains a composition of several herbal extracts that are very concentrated and powerful. Collagen is in turn a body-specific substance that is found in all connective tissue structure and is found in supplements for hair, skin, nails, joints and cartilage. Healthwell Inflamin® Collagen Premium is naturally sweetened with apple and stevia for a good taste.
With Peptan® collagen
Blend of highly concentrated herbal extracts
For normal joint health
Contains piperine for best absorption
Along with zinc, vitamin C and MSM
Why use Peptan® Collagen?
Peptan® collagen is type 1 collagen, which is found in our skin and bones. Collagen is the protein that our bodies largely consist of and is abundant in muscles, tendons, joints and ligaments. Collagen also builds up hair, skin and nails. Just Peptan® collagen are bioactive collagen peptides that have been developed to provide multiple functions. The fact that they are bioactive collagen peptides makes them easier for humans to digest. For the best effect, Healthwell Inflamin® Collagen Premium also contains added vitamin C, which promotes the build-up of collagen in the body and also contributes to the normal function of the immune system.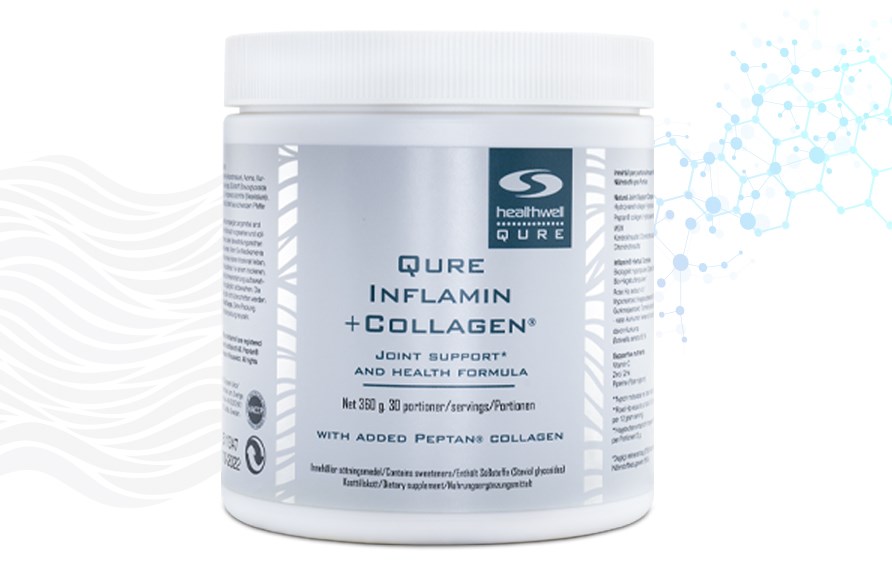 What is Inflamin®?
Inflamin® is a highly-dosed herbal complex that contains extracts of rosehip, turmeric and boswellia. The extracts come from the active substances in the plants, which means that they only contain the active substances that you need in concentrated formats. Rosehip extract and rosehip powder are, among other things, naturally rich in the antioxidant vitamin C. Boswellia extract is a common ingredient in supplements for joints and has been studied in connection with knee problems (1). Turmeric and the active substance in turmeric, curcumin, is common in the Ayurvedic tradition and has recently also become a common ingredient in supplements for joints. By combining curcumin with piperine, the effect of the substance can be increased.
Healthwell Inflamin® Collagen Premium also contains MSM (methylsulfonylmethane), a form of organic sulfur that is found in the body and which is an important component in the body's collagen and keratin. The supplement also contains added zinc which contributes to a normal metabolism and to a normal immune system.
Storage and dosage
The recommended dosage is 1 tablespoon of powder a day that you mix with water, preferably in a shaker. Drink the mixture on an empty stomach before breakfast for best absorption. If necessary, another portion can be taken before dinner. Remember to store Healthwell Inflamin® Collagen Premium in a cool, dry place and away from direct sunlight.
References
1.Yu, Ganpeng, Xiang, Wang et al. 2020. Effectiveness of Boswellia and Boswellia extract for osteoarthritis patients: a systematic review and meta-analysis.
Brand
Product recommendations
Hyaluronic Acid Plus
90 caps.
Popular
Popular
Other promotional products