Bild saknas
For stressful situations.- Adaptogenic herb
- Mental resilience
- 300 mg per capsule

Popular
Rhodiola Rosea Plus
80 caps.
Popular
Popular
Product description
Nutritional content
Product description
Supplement with Schisandra chinensis
Schisandra from Healthwell contains berry extracts from the adaptogenic herb schisandra (Schisandra chinensis). With extract equivalent to 1.5 grams of dried herb per capsule. Schisandra is an adaptogenic herb that has a long tradition. The recommended dosage is 1 capsule twice a day, during stressful periods.
Schisandra chinensis 5: 1
Adaptogenic herb
For stressful situations*
1.5 grams of dried herb per capsule
Plant-based capsules
What is schisandra?
Schisandra (Schisandra chinensis) is also called butterfly vine and are small, red berries from Asia. This berry has a high nutritional content and has been used for a long time for its interesting properties, not least during periods of stress. Schisandra is absorbed quickly in the body and has a slow degradation which provides a desirable effect.
Schisandra chinensis is one of the adaptogenic plants, which possesses unique and sought-after properties. An adaptogen helps the body to adapt to prevailing stresses such as stress, exertion and temperature. An adaptogen has a normalising effect without being addictive. In addition to schisandra, rose root, Russian root and ginseng are examples of adaptogens.
What is stress?
Stress is a reaction that is triggered by physical or mental exertion. In some situations, stress can give you extra energy, but prolonged stress is stressful for the body. In order to cope with everyday life in the long term, recovery and rest are important. Prolonged stress can, among other things, lead to poor sleep quality, which in turn can lead to difficulty concentrating and irritation. Stress for a long period of time can also lead to memory problems, depression and anxiety. It can also manifest itself physically, for example in the form of eczema, tingling in the hands, nausea and dizziness, colds and palpitations.
Vegetarian Friendly
The symbol Vegetarian Friendly indicates that the product's content is suitable for vegetarians and vegans.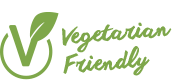 Brand
Product recommendations
Popular
Rhodiola Rosea Plus
80 caps.
Popular
Popular
Other promotional products