Bild saknas
A natural and nutritious mix of greens. - Minerals and vitamins
- Chlorophyll & antioxidants
- Tastes good
Hyaluronic Acid Plus
90 caps.
Popular
Popular
Popular
Product description
Nutritional content
Product description
Natural mix of greens
Super Greens is a fine powder of a variety of vegetables, algae, berries, and plants that, together, provide a naturally nutritious mix of greens. The dried plants have been carefully pulverised and the powder is lightly sweetened with stevioside. Super Greens has a refreshing taste of citrus, green tea, and mint, and can be easily mixed into a shot with just water, or in any drink or smoothie to increase your daily intake of nutrients. Super Greens is a convenient way to get a large amount of fruits and vegetables in one compressed format.
Natural nutritional mix of vegetables, plants, algae, and berries
Rich in vitamins and minerals
Corresponds to a large portion of fruits and vegetables
Refreshing taste of mint, lemon, and green tea
Lightly sweetened with stevioside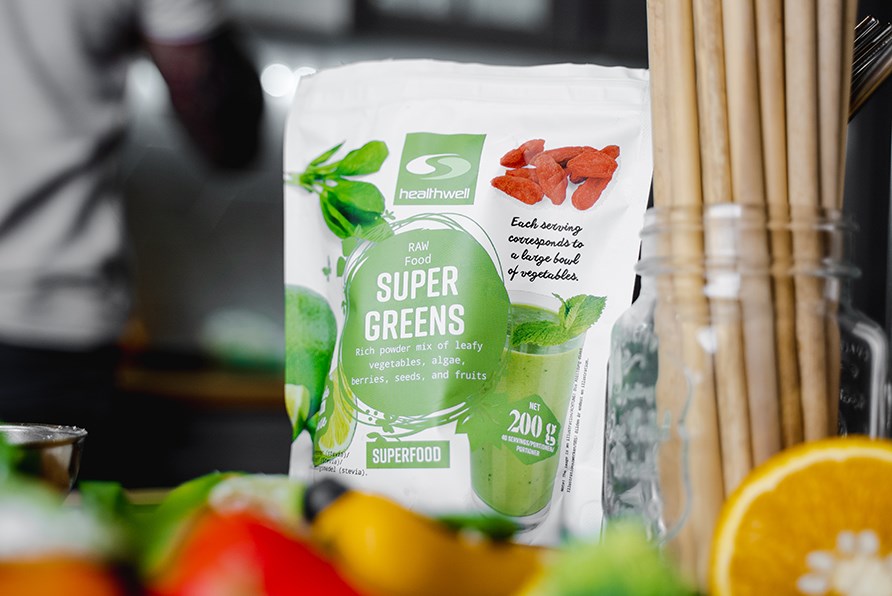 Super Greens contains a fully packed mixture of vegetables, fruits, berries, algae, and plants.
Content of Super Greens
Super Greens contains, for example, spinach, wheatgrass, spirulina algae, and green cabbage, all of which are rich in chlorophyll, vitamins, and minerals. Also included are acai berries, well known for their rich content of vitamins, which act as antioxidants, linseed powder that contains healthy fatty acids and fibres, as well as green tea and sunflower lecithin. This naturally nutritious mix makes it easy to ensure your intake of fruits and vegetables alongside your diet.
Brand
Product recommendations
Hyaluronic Acid Plus
90 caps.
Popular
Popular
Popular