Bild saknas
Nutritious freshwater willow. - Chlorophyll rich
- Mineral rich
- 60-70% protein
Hyaluronic Acid Plus
90 caps.
Popular
Product description
Nutritional content
Product description
Spirulina powder with no additives
Spirulina ECO from Healthwell is organically grown and carefully handled to retain all the healthy nutrients, and it is completely pure and free from additives. The alga has a high content of protein and chlorophyll as well as vitamins and minerals, such as vitamin C and zinc, which are powerful antioxidants. In addition, 5–8% of the alga consists of essential fatty acids like omega-6. Omega-6 is needed, for example, in order for the cells to be repaired and built, as well as for a normal immune system. Healthwell Spirulina ECO can be used as a natural nutritional supplement and mixed in water, juice, or a smoothie to increase nutrient availability.
Natural content of protein and minerals
Healthy fatty acids
High nutritional value
Rich in chlorophyll
Organically grown
In addition to its nutritious content of vitamins and minerals, spirulina is also rich in chlorophyll. In addition, 5-8% of the algae consists of omega-6 fatty acids. These fatty acids are needed, among other things, for our body to be able to build and repair cells. Chlorophyll is the substance that gives grass its green colour and also acts as plants' hemoglobin. Thanks to its high nutritional value, spirulina has been used by NASA in their space travel.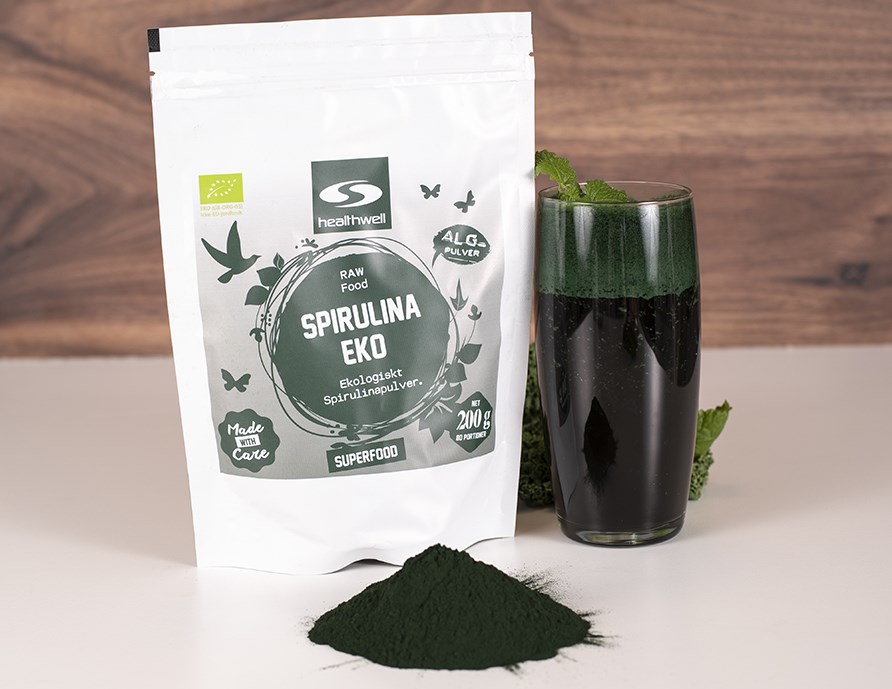 How do you use spirulina powder?
Take one shot of the powder daily mixed in water and feel free to add a few drops of freshly squeezed lemon juice. You can also mix the powder into your fruit or vegetable juice, or why not make a delicious smoothie?
What does it mean when we say the product is EU-organic?
In organic food production, biodiversity, the conservation of natural resources, environmental practices and strict animal welfare are observed (1). In order for a product to be labeled as EU-organic, the label used within the EU, a product must meet strict conditions that apply to the entire production chain. The product must contain at least 95% organic ingredients, and in addition, the other 5% must meet other strict conditions (1).
In organic crop production, it is important to promote soil fertility and to allow for perennial crop rotation and a cycle of organic material. Therefore, fertilizers, compost and plant protection products should only be used if they comply with the principles and objectives of organic production. In general, the EU requires that an organic food must be produced without synthetically produced chemical pesticides and without artificial fertilizers. In organic production, genetic engineering is also prohibited. In addition, production should primarily rely on renewable resources (2).
references:
1 & 2. EG. 2007. Rådets förordning (EG) nr 834/2007 om ekologisk produktion och märkning av ekologiska produkter och om upphävande av förordning (EEG) nr 2092/91. (Retrieved 2021-09-24)
Vegetarian Friendly
The symbol Vegetarian Friendly indicates that the product's content is suitable for vegetarians and vegans.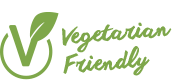 Brand
Product recommendations
Hyaluronic Acid Plus
90 caps.
Popular