Bild saknas
Essential cypress oil. - 100% pure oil
- Highly concentrated
- Antiseptic
Hyaluronic Acid Plus
90 caps.
Popular
Popular
Product description
Contents
Product description
Essential cypress oil
PURE Cypress oil ECO is a 100% pure and essential cypress oil (Cypressus sempervirens) which is produced through the distillation of conifers. Among other things, cypress oil is antiseptic and has an astringent effect. It has a slightly sweet, spicy and slightly smoky pine-like scent. PURE Cypress Oil contains no other additives but consists only of pure oil, which makes it very highly-dosed, concentrated and cost-effective. A carefully produced oil of the highest quality.
100% pure essential oil
Organic content
Spicy and slightly sweet pine-like scent
Antiseptic
Suitable for oily and impure skin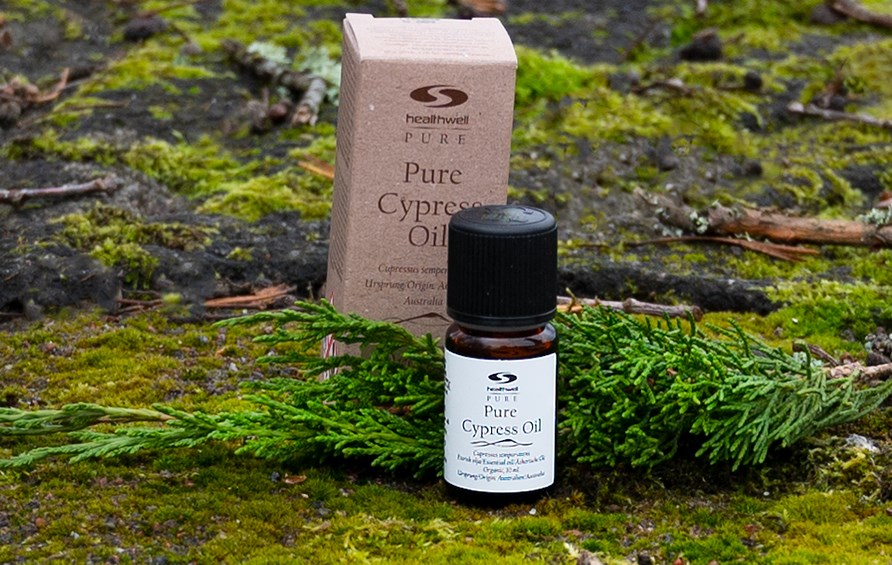 PURE Cypress Oil has a spicy, pine-like scent.
Use of cypress oil
Cypress oil has several areas of use. It can be used in, among other things, perfume and aftershave, but also in skin care for oily and impure skin. Keep in mind that the oil is very concentrated and must never be used undiluted directly on the skin, but must instead be mixed with a skin care product or oil. It can also be inhaled or used in the bath.
Cypress oil as a fragrance
Cypress has a fresh, smoky and slightly sweet scent with hints of pine and citrus, a rather masculine scent. It is a middle note that goes well with citrus scents such as orange and bergamot, as well as other fresh scents such as frankincense, lavender and rosemary. Cypress adds a zing to wood scents such as cedar oil and sandalwood oil. It is a common fragrance in aftershave, cologne and perfume, and particularly in men's fragrances. It is also a wonderful scent to use as a room spray for calm and focus.
Cypress oil in skin care
Cypress has an antiseptic effect and is also astringent. It is often used in skin care to dry out oily and impure skin and regulate oil production. As the oil has circulation-enhancing properties, it is also popular to use in massage
Cypress oil for aromatherapy
In aromatherapy, cypress oil is used to strengthen oneself mentally to help relieve stress, anxiety and worry.
Brand
Product recommendations
Hyaluronic Acid Plus
90 caps.
Popular
Popular