Bild saknas
Orange essential oil. - Organic
- Cold pressed
- Suitable for aromatherapy
Hyaluronic Acid Plus
90 caps.
Popular
Popular
Product description
Contents
Product description
Organic orange oil
PURE Orange oil EKO from Healthwell is a high-quality, fragrant essential oil from cold-pressed orange peel. The orange oil has a slight sharpness in the scent from the orange peel, mixed with the sweet and fresh citrus scent. Orange essential oil is suitable for many beneficial purposes, among other things the oil has calming properties in aromatherapy and is also widely used for cold symptoms and is very useful in DIY projects. The oil is highly concentrated and should be handled with care when using and diluted before use on the skin. Orange oil EKO consists only of the purest oil and is free from additives and preservatives.
Organic
Cold pressed from orange peel
No additives - only oil
Sweet, fresh scent of citrus
Suitable for aromatherapy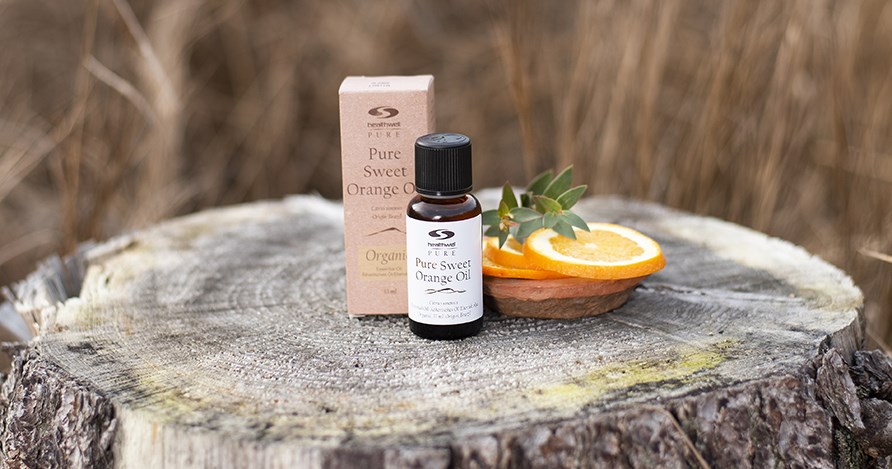 Did you know that orange peel is cold-pressed to preserve all its beneficial substances?
Aromatherapy with orange oil
Orange essential oil is a popular oil to use in aromatherapy due to its calming and uplifting effect. Enhance your massage experience by adding a few drops of Orange Oil EKO to your massage oil and feel how body and mind come into balance and create a calmness that works perfectly before bed. Even when your everyday life feels extra stressful, orange oil can be added to a warm bath for extra relaxation and stress reduction. Or why not use the orange oil for its lovely aroma in your diffuser for a fragrant home?
DIY with essential orange oil
Just like many other essential oils, orange oil can be used in skin care with its unique scent and uplifting properties. Make your own body scrub with natural ingredients or why not try making your own soap with essential orange oil as fragrance? The slightly sharp but sweet fragrance blends well with other aromatic scents such as rosemary and lavender but also goes well with a base note such as boswellia frankincense. The oil can also be added to other base oils or to your regular skin cream for an extra fragrance experience, and used as an extra ingredient in your kitchen and bathroom cleaning products.
Organic content
You can find the green leaf on our products with organic content. It applies to, among other things, cosmetic products such as skin and hair care and essential oils. The raw materials in this product are classified as organic according to USDA Organic.

Brand
Product recommendations
Hyaluronic Acid Plus
90 caps.
Popular
Popular