Bild saknas
Organic eucalyptus oil. - Excellent in skin care
- Fresh scent
- Can be used as a room scent
Hyaluronic Acid Plus
90 caps.
Popular
Popular
Product description
Contents
Product description
Organic Eucalyptus Oil
Enjoy the refreshing scent of eucalyptus leaves with PURE Eucalyptus Oil. This essential oil is completely free from all kinds of additives to give you the finest oil. In PURE Eucalyptus oil ECO, we have used leaves from Eucalyptus Globulus, which is the essential oil that contains most of the active substance eucalyptol and is therefore one of the most appreciated forms of eucalyptus oil. The oil can be used together with other oils or in creams to create your own skin care products, in humidifiers to get a fresh scent at home and as a repellent against many types of insects. Eucalyptus has a very characteristic scent that is reminiscent of peppermint and feels very healthy.
Eucalyptus organic oil
Excellent in skin care
Refreshing scent
Can be used in humidifiers
A few drops are enough
PURE Eucalyptus oil ECO has been produced with the greatest care from eucalyptus trees in India where only the finest leaves are used. The eucalyptus tree can grow up to 80 meters high and grows not only in India but also in Australia. The leaves of the eucalyptus tree are beautifully grey-green and leathery. The essential oil from eucalyptus is produced by steam distilling the leaves so that the beneficial substances can be gently extracted. The vapour that occurs cools until it condenses, giving the essential oil its purest form.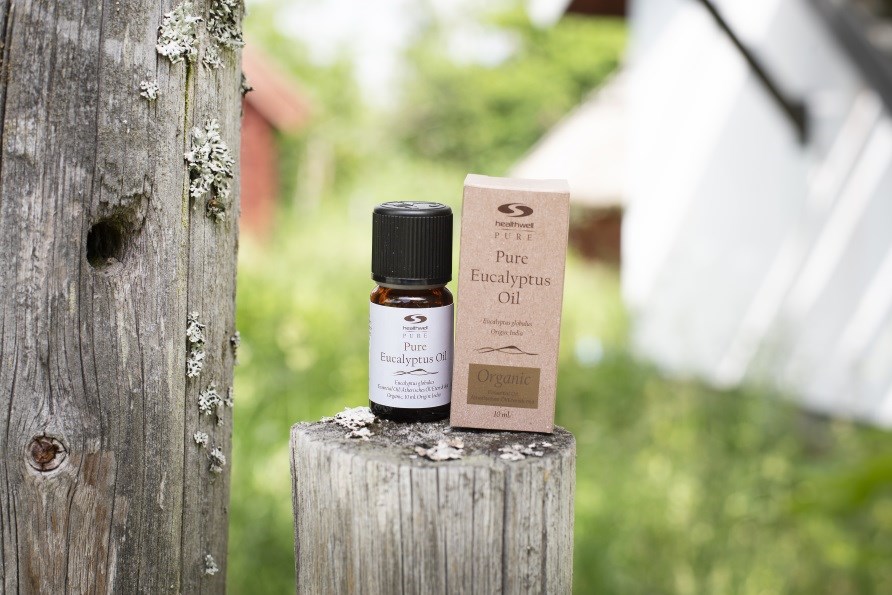 Use of eucalyptus oil
PURE Eucalyptus oil ECO can be used in aromatherapy and as an ingredient in various skin care products that you mix yourself. As essential oil is very concentrated, it is recommended to use a maximum of 2% essential oil in relation to other ingredients to avoid skin irritation. Mix the essential oils with, for example, jojoba oil to get a refreshing skin oil with caring properties! To spread a wonderful scent at home, you can mix the eucalyptus oil with aromatic, herbal scents such as lemon oil, tea tree oil or lavender oil for your humidifier. The eucalyptus scent is also popular to use in sauna baths and can have both an invigorating and soothing effect.
The scent of eucalyptus is appreciated by most people, but not by mosquitoes and other insects. Therefore, you can make your own mosquito and insect spray to keep them away from you or from selected parts of your home. Or use the oil when making your own fabric softener. As a bonus, you can enjoy the wonderful scent!
Does eucalyptus help with colds?
The refreshing scent of eucalyptus can feel both soothing and refreshing when you suffer from a cold, sore throat or nasal congestion. How eucalyptus oil actually works remains to be researched, but it is still a popular home remedy to mix eucalyptus essential oil with hot water and inhale the steam from it. PURE Eucalyptus oil ECO can also be mixed with other oils and rubbed on the chest, or mixed in the bath water when you want a real refresh!
More about essential oils from Johanna Hector
The Yoga guru and Swedish Health Food motivator Johanna Hector talks about how she uses essential oils in her yoga classes, and shows you how you can use them too.
Brand
Product recommendations
Hyaluronic Acid Plus
90 caps.
Popular
Popular